It's been going ok so far, I've only had one day where I didn't draw anything. Wednesday was halloween so there's been a definite horror/zombie theme this week. To draw on an iPad I've been using Procreate and a bamboo stylus. Procreate is pretty cool because you can have lots of layers and export to psd. As you can see above, you can turn on a layer to transform rainbow unicorn to rainbow unicorn of death. One of the reasons I wanted to be able to draw on an iPad is so I can use the pictures on my computer, if ever you've tried to draw something and scan it in you'll know it can be really annoying, especially if you want transparency. The stylus is tricky to get used to because the point is quite large, it makes it difficult to be precise. I've found if I zoom in heaps when I'm doing something detailed it's not too bad.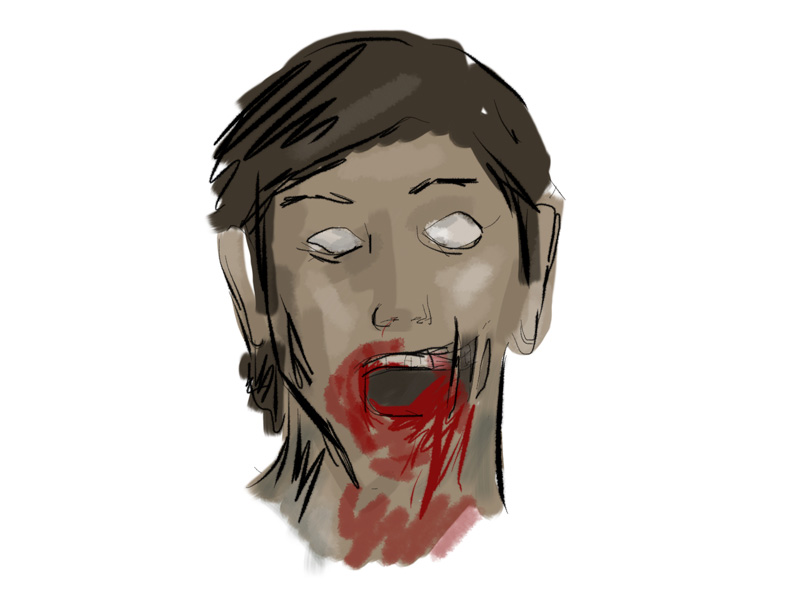 Procreate has heaps of brushes but when I tried to draw a zombie I realised there aren't any ones that splatter or drip, so I couldn't get the blood quite how I wanted. It looks like you can create your own so I will have to look into that at some point. I was trying to go for a simplified comic book style sketch with this one.
The hand was a really quick sketch. I used my own hand, luckily my thumb bends weird so I can make my hand look pretty freaky anyway.
This one didn't go that great but not as bad as day 6, which ended up being a play with all the crazy brushes experiment. Finally it looked a bit like a wall so I used the airbrush to spray paint rude things on it. Best not to drink before drawing.