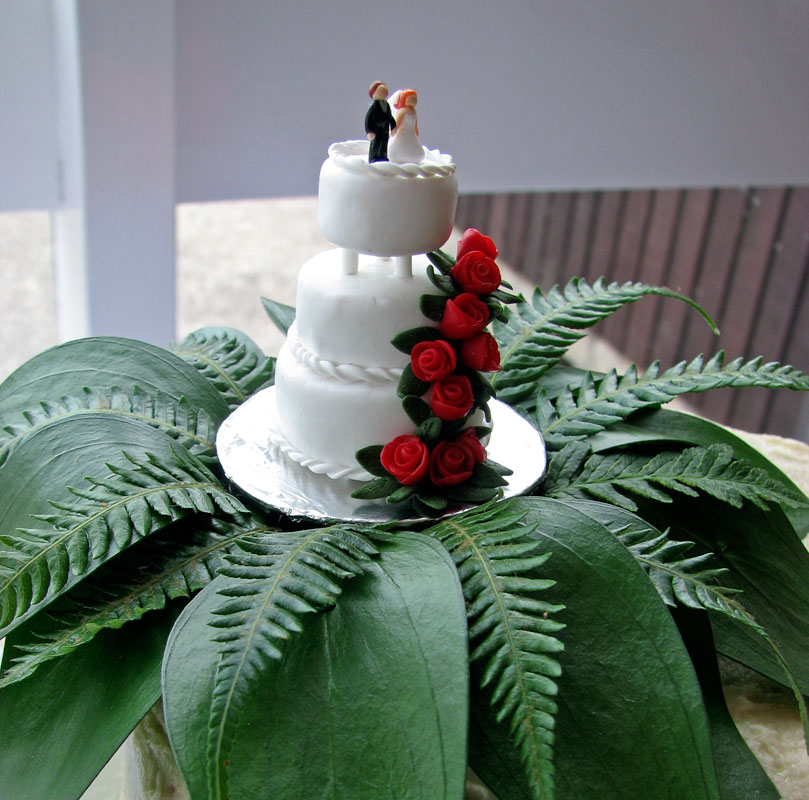 I'm making a wedding cake topper for my friend who is getting married on Saturday, I can't put photos of that up yet so I thought I would put up the cake topper I made for my wedding a couple of years ago.
I really like mini things, especially fake mini food so decided to do a very formal mini wedding cake to go with my not very formal cupcakes. It's made of polymer clay and I now keep it with some of my other mini things in a curio display. I made it on a day when I was staying with my parents and I will forever remember it is the day my mother learnt the true extent of my vocabulary. It's not that I don't normally swear when I do craft, but this was an excessive amount, even for me.
The issue was that dust kept getting into the white clay and it was much more obvious with the white than with any of the coloured clays. Every time I touched it more would get into it. After some very strong words my mum suggested turning off the heat pump, this helped quite a bit because it had been pushing the air around where I was sitting. I don't want to be crass but I want to be clear about why this was such a problem in case someone reading this is going to be making some mini cake craft themselves. There are tiny little fibres on your clothes, it was winter and I was wearing a black woollen jumper. Those tiny tiny little fuzzy fibres when on a tiny little wedding cake look exactly like tiny little hairs – and not the sort from anyones head. Nobody wants that on their wedding cake – mini or otherwise. This should explain the extreme swearing.
These are my tips for minimising this problem:
Clean your workspace before you start
Make sure there aren't any open windows, fans or fan heaters going
Wear clothes that don't shed fibres
Try to handle the white clay as little as possible when molding it
Keep the cat away (this one is very difficult to achieve)
I did all this on the cake topper I have been making for my friend and I still found there were bits of dust getting in, but less than there had been the last time. I molded it into the shape I wanted and then used a craft knife to slice off the smallest piece possible that had the dust in it and then smoothed it over afterwards. This seemed to work pretty well. Luckily the cake topper that I've been making isn't a tiny cake so it doesn't have the same connotations when a small fibre is on it that it had with my one.