I've been wanting to do a zombie stripper themed pole dance for some time. A trip to Vegas in August and purchasing a pair of genuine showgirl plastic stripper heels helped to fuel the desire to finally get this routine done. And here it is:
This was a fun one to do, it had sewing, special effects makeup, body painting, videoing and of course, pole dancing. A week later I did the same routine live at a Halloween pole show, that was my first time performing in front of a live audience and I'm really happy with how it went. I thought I would get really bad stage fright but I didn't even throw up at all.
The concept
There are many types of zombies out there, I had to think about what type I was going to be. There's the traditional slow zombies, the 28 Days Later fast zombies and of course the funky dancing Thriller zombies. I decided that I was a standard old-style slow moving zombie. I had been a stripper, I was turned at work so was ambling around there doing my zombie thing when the music starts. The music revives my pole dancing ways from when I was alive and I start trying to dance like I used to, only I'm dead so don't move as well anymore. Maybe I over think things but I find it helpful to understand where my zombie motivation is coming from.
Finding a song that set the mood for what I wanted my zombie to be was tricky. It needed to be sexy but have some kind of horror theme and feel to it. After much searching I finally found 'Voodoo' by Chris Isaak, it's from his first album 'Silvertone'.
The costume
The 'dress' was heaps of fun to make. I went out and picked the trashiest metallic spandex I could find. I'd seen metal rings in a sewing store ages ago, they were called 'glamour rings'. I loved that term and also find them very trashy so wanted to include them somehow. The other thing I knew it needed was to be like a two piece but connected through the front. I found that style the most stripperish of shapes, much trashier than separates.
Once I had the fabric and the rings I just tried to piece it together on myself. I had originally intended to have it ripped in some way. I had hoped I could do that with one of the straps but they were both crucial in the end, it wouldn't have stayed up without them. As hilarious as one boob out would've been, I wanted my family to be able to watch it. In the end there were no rips so I've got a good condition stripper dress that I can wear out whenever I like. Or whenever I lose a bet.
I bought some gold hot pants from eBay to go under it, they were really bad quality so I won't link to them.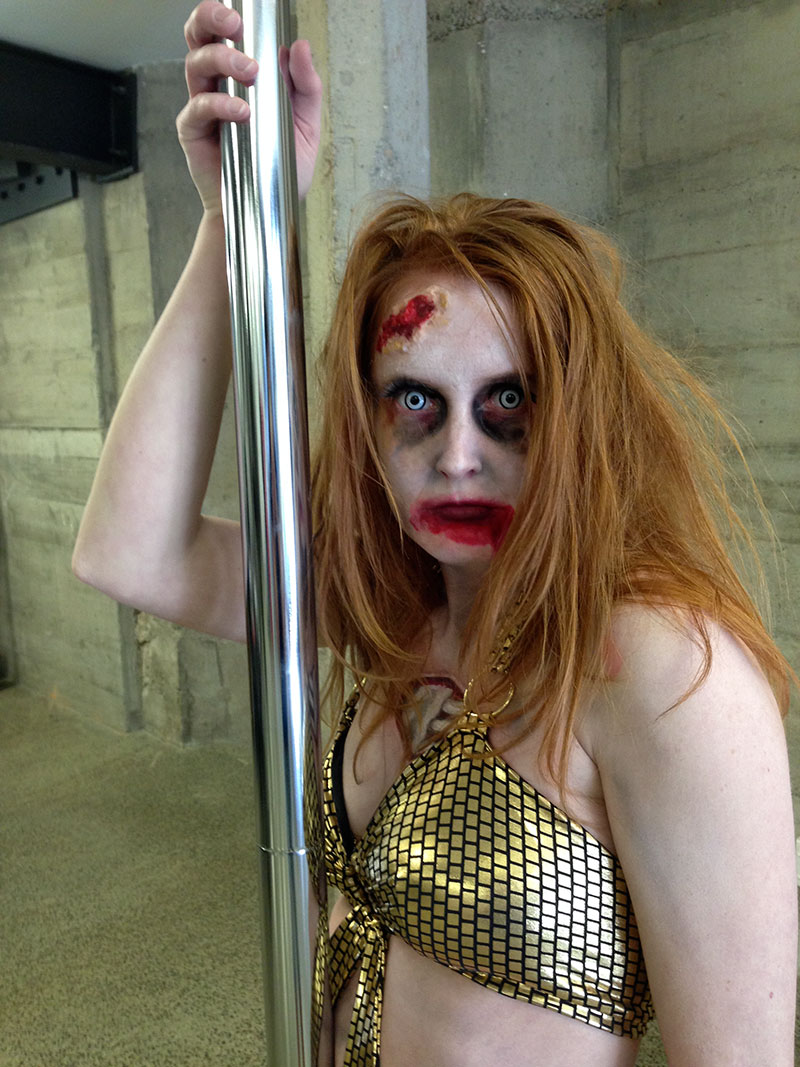 The makeup
I wanted there to be something zombie-ish on my body so that it wasn't just makeup on my face. I did a couple of pieces of body painting with exposed bones. One was on my chest with a little bit of ribcage showing, that was annoying because I had to do it in the mirror. The other was on my left arm so wasn't too hard to do. I wrote about body painting in my last post, so you can check that out if you want to know more about how I did them.
For my face I had one piece of gelatin prosthetic stuck to my forehead. I only had a skin disease mould, but I figured from far away you couldn't really tell it wasn't shaped like a proper wound. Fake blood is usually really sticky and I didn't want my hair getting caught in it as I was moving around so I used the face and body paints for that as well. They don't look as realistic close up but they dry and I figured it would look fine from far away.
I used black and white powder for the rest of it, there was some of that on my body too. I avoided the parts I had to grip with but I think the powder was ok to get on the pole a bit, I wouldn't have used a greasy makeup or it would make it slippery. The white contacts made me look much scarier, I definitely recommend those if you want to dress up like a zombie. Lastly I had a big set of false eyelashes, which were there as a leftover from my pre-zombie days.
Merci beaucoup
A massive thanks to my very patient husband and my wonderful friend Anna for all their help with setting up, videoing, photographing, hair teasing, makeup assistance and for giving helpful advice while I struggled to put my contact lenses in.